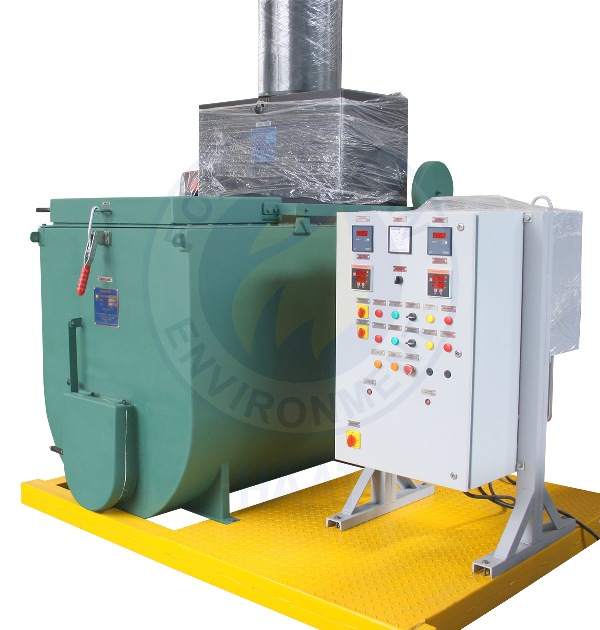 INCINERATOR MODEL ADR
Capacities: 100 kg/h to 500 kg/h
Emission: India / EURO / US-EPA
Fuel: LDO / HSD / FO / SKO/ Gas / Other
Power: 220 V, Single phase 415 V, Three phase
Loading: Automatic
INCINERATOR MODEL – ADR
• Combustion efficient semi-circular design incinerator
• No cold spots
• No wearing parts
• Optional secondary burner operation for incineration
of flue gases
• Top loading type of incinerator
• One time loading and forget
Combustion efficient semi-circular design
The cylindrical design in this incinerator ensures uniform heat transfer which results in uniform burning and very good combustion. Possibility of un-burnt materials in this incinerator design is vastly reduced.
No cold spots
A rounded shape in the incineration chamber generally gives more uniform heat flow and transfer rather than a square shape which has sharp corners.
No internal wearing parts
This incinerator does not have any internal slabs or components which are subjected to heat wear. It is therefore designed
for maintainability without the need to replace any wearing parts during its life time.
Optional secondary burner operation
Though a secondary burner is made available with this type of incinerator, it only needs to be operated when a greater volume of flue gas is generated by some wastes. This will result in better emissions. The secondary burner can be switched off to conserve energy and not used when not required.
Top loading
A door provided on top of the primary chamber of the incinerator acts as a loading door and another door at the bottom of the chamber serves as a de-ashing door enabling easy leading of waste and ash removal as well as inspection.
One time `load and forget`
This incinerator is also designed for one time loading unlike a batch type which needs to be loaded every 10 or 15 minutes.
Capacities
From 10 kg/h to 500 kg/h, any incinerator capacity in this range can be supplied.
Air Pollution Control Devices
Accessories
Testimonials.
"Incinerator is in our service since April 1997. The incinerator is working satisfactorily in accordance with the specifications" - Mr. R. Anbalagan, Manager (Process), Mitocon Biotec, Cuddalore.