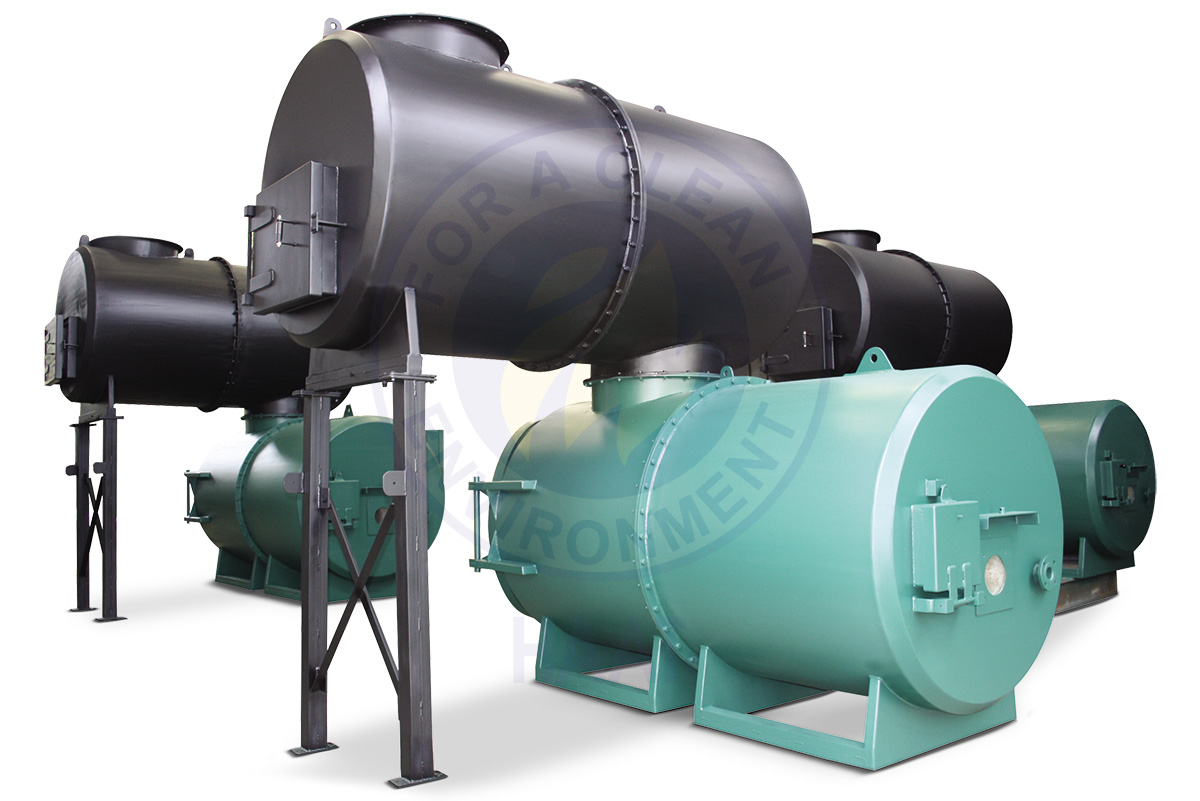 INCINERATOR MODEL PDR
Capacities: NA
Emission: India / EURO / US-EPA
Fuel: LDO / HSD / FO / SKO/ Gas / Other
Power: 220 V, Single phase 415 V, Three phase
Loading: Manual / automatic
INCINERATOR MODEL – PDR
• Double chamber double burner incineration system
• Cylindrical incinerator design
• Suitable for mid-range to large capacity incinerators
• Special refractory with high strength
• Comparatively low initial cost for this incinerator range
• Continuous use type incinerator
Double chamber double burner incineration system
The PDR incinerator comes with two combustion chambers, each with its own individual burner for applications requiring longer waste burning time as well as longer flue gas residence time.
Cylindrical incinerator design
This incinerator has very good combustion efficiency having no cold spots and is offered at an economical budget for the performance delivered.
Suitable for mid-range to large capacity incinerators
This incinerator is made for capacities starting from 25 kg/hr up to 1000 kg/hr. This incinerator model is made for continuous operation and can be used for single or multi-shift or round the clock.
Special refractory with high strength
The PDR incinerator is lined with castable insulating refractory on SS anchors. The hot face refractory is a special low cement high alumina type having a high cold crushing strength. The advantage of this
refractory is that its strength keeps increasing at higher temperatures, which means that the refractory is free from any possible damage in a high temperature condition due to operator error. This also gives a very long life to the refractory and enhances its life cycle considerably. It has practically no maintenance costs.
Comparatively low initial cost for this incinerator range
The PDR incinerator utilizes some of the latest incineration technology without the unnecessary accessories and extras. This is an entry model meant to incinerate wastes from 25 kg/hr to 1000 kg/hr. Extra features such as automation and more safety interlocks can be added or are available as optional items.
For the top-end model, in the continuous usage type, please click here - go to LRD.
Continuous use type incinerator
This incineration system is designed for continuous operation of 24 hours a day, 7 days a week, which will not only be good for the refractory, but for refractory maintenance. This incinerator is also fuel efficient because of lower thermal shocks.
Capacities
From 25 kg/h to 1000 kg/h, any incinerator capacity in this range can be supplied.
APCD
• Dust collector
• Acid gas scrubber
• Wet venturi scrubber
• Bag filter
Air Pollution Control Devices
Accessories
Testimonials.
" The incinerator is functioning extremely well and meeting all the requirements of Gazette of India notification. The Strength of the equipment lies in its easy handling, economy in treating bio-medical waste and meeting all criteria control test of PCB Karnataka "
- Group Capt. H. S. R. Arora, Registrar, Command Hospital Air Force, Bangalore.