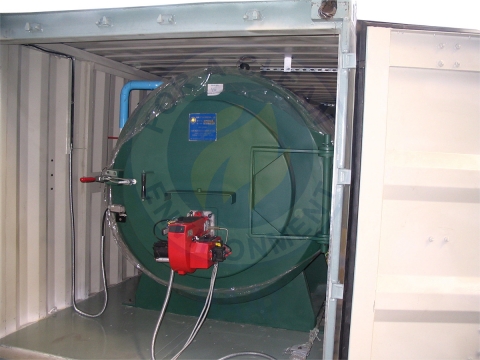 INCINERATOR MODEL PORTABLE - PLR
Capacities: 200 kg/h to 1500 kg/h
Emission: India / EURO / US-EPA
Fuel: LDO / HSD / FO / SKO/ Gas / Other
Power: 220 V, Single phase 415 V, Three phase
Loading: Manual / automatic
INCINERATOR MODEL – PORTABLE - PLR
• Skid mounted
• Small to medium capacity
• Optional trailer
• Suitable for remote sites
Skid mounted
The PLR incinerator is used for small to medium capacity incineration and is favoured by organizations that prefer to be on the move with a small system for onsite incineration rather than collection, transportation and incineration with a large system. This incinerator is suitable for waste management companies who can offer mobile incineration service at nominal costs.
Small to medium capacity
These incinerators are meant for small to medium capacity incineration as they will be used in
remote sites and outposts who generate smaller quantity of wastes. For larger capacities requiring portability, please look up our skid mounted and containerized models here – SRD and TDR.
Optional trailer
A trailer can also be offered along with the incinerator which can be hooked onto a vehicle to make it portable and carried from to site to site.
Suitable for remote sites
There are many sites where temporary incineration facilities are required and the PLR incinerator model is ideal for these locations or companies who wish to provide incineration services at such locations for a fee. The PLR incinerator can also be taken to a remote site use for a few months and brought back.
Accessories
Testimonials.
" The incinerator at the International Hospital Of Bahrain is working very well. Indeed it is a smokeless incinerator without causing any pollution"
- Dr. Praful L. Vaidya, Head of Surgical Dept. & Equipment Committee Chairman, International Hospital of Bahrain.