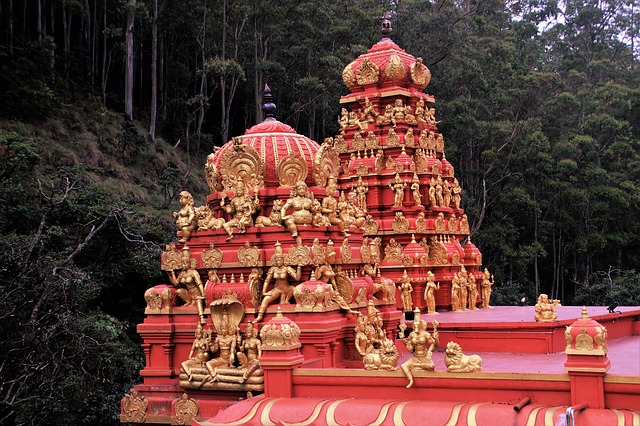 Where does one use an incinerator? Wherever there is waste and where there is no other option because the waste is generated in a difficult place.
Some of the applications for Haat incinerators come from strange locations where one never thought they exist.
We got a call from a temple town situated in Tamil Nadu. It was from a temple located on a hill top and the waste consists mainly of coconut shells, garbage and other wastes from offerings to the god.
We went to the temple to see for ourselves to find out the feasibility. The applications definitely called for an incinerator because the waste generated per day was in the region of 2 tons and it was generated on top of the hill. Moreover there was very limited storage space. In addition if the waste is not removed within a day, decomposing starts and the devotees find it difficult because of the stench. The local municipality was not willing to climb up all those steps to collect the waste. The temple management was not willing to allow them to carry the waste through the elevator because it was purely meant for devotees. It therefore required the temple staff to carry it using the steps, which was a laborious and time-consuming job.
The first challenge was installation of the incinerator on top. The second challenge was the space available for locating the machine. The third challenge was the waste mix consisting of general garbage, flowers, food, coconut shells, etc. We suggested to the management not to burn the food waste but to compost it, but at that time there was very limited space and hence the management wanted to burn everything in the incinerator. They planned to go in for a composting machine in due course.
A contract was established and we supplied the incinerator. There was no need for a chimney because of the height already existing. They made an exception to carry the disassembled incinerator through the elevator and we had foreseen the problem of carrying an assembled incinerator weighing a few tons. The system was assembled on top where they had made a concrete platform.
On completion of the installation, the waste was loaded throughout the day and the temple management and people around were very happy to see the non-smoking Haat incinerator and even happier to see that the limited space brimming with decomposing waste was empty of all garbage and the place became breathable.
More info on this project here - Temple Waste Incinerator
Testimonials.
"Haat has successfully installed and commissioned an incinerator for the Ministry of Interior." – Mohammed Al-Mazrou, President, Saudi Bell Group.