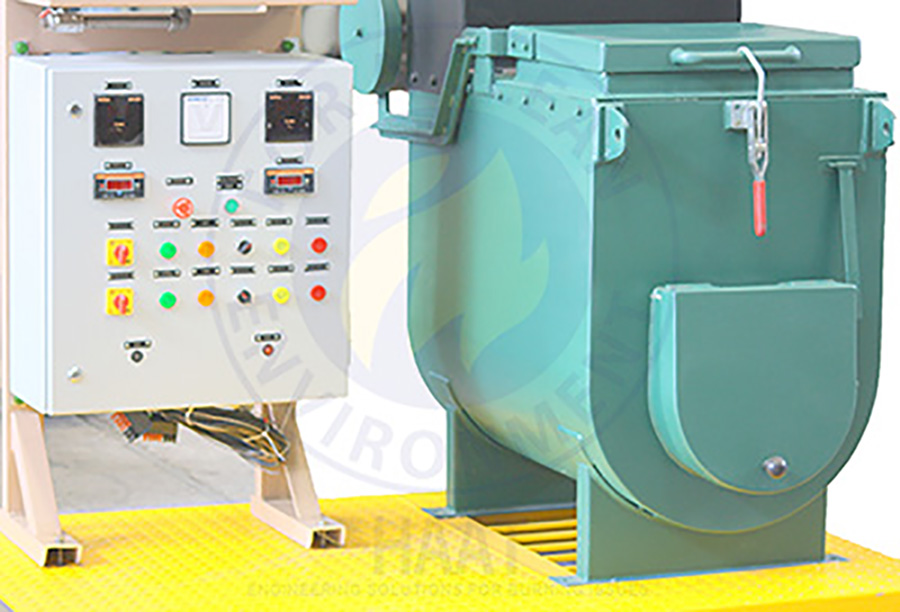 INCINERATOR MODEL INSTARATOR
Capacities: 5 to 50 kg/h
Emission: India / EURO / US-EPA
Fuel: LDO / HSD / FO / SKO/ Gas / Other
Power: 220 V, Single phase 415 V, Three phase
Loading: Manual / automatic
INCINERATOR MODEL – INSTARATOR
• An incinerator meant for instant and simple disposal
• Economically priced incinerator
• Mobile type
• Monolithic refractory lining with low maintenance
• Low incineration costs
• Top loading incinerator
• One time `load and forget` advantage
Meant for instant and simple disposal
Instantly ready to use incinerator for mobile use to dispose quickly food waste, garbage, small dead animals and poultry waste
Economically priced incinerator
The Instarator type of incinerator can be made to fit virtually any budget and is initiated for use in sites where larger facilities may not be immediately accessible.
Mobile type
Being a small size, simple unit, it can be mounted on any trailer, transported and taken to any desired location. Trailers can be provided on request. In other words, this is an ideal incinerator where if the wastes cannot be brought to the machine,
the incinerator will go where the waste is.
No internal wearing parts
This incinerator model does not have any internal slabs or components which are subjected to heat wear. It is therefore designed for maintainability without the need to replace any wearing parts during its life time.
Low operating costs
A single burner is provided for both waste and flue gas resulting in clean emission. Optional after burner can also be provided. This model is economical in terms of initial investment and in operational costs.
Top loading
This incinerator is provided with a counter balanced door convenient for opening and closing and easy loading of waste into the chamber directly from the top.
One time load and forget
This incinerator is designed for one time loading unlike batch types which need to be loaded every 10 or 15 minutes.
Capacities
From 2 kg/h to 500 kg/h, any incinerator capacity in this range can be supplied.
Air Pollution Control Devices
Accessories
Testimonials.
"The system fully meets the requirements of the Central Pollution Control Board's guidelines for Hazardous Waste Incinerators." – SMR Prasad, GM (Environment Management), JSW Steel.