MSW Incinerator for Nigeria
MUNICIPAL SOLID WASTE & GARBAGE INCINERATOR IN WEST AFRICA
A client in Western Africa wanted to place an order for three 500 kg/h incinerators. However, the key requirement was that he wanted these 3 incinerators to be despatched from our factory within 2 months of his order!
On analysis of his requirement, we found that the client wanted to incinerate segregated city waste and garbage consisting mostly of food, paper, some amounts of plastic, garments, rejects like diapers and gardening waste. The problem faced by the city was indiscriminate dumping of waste material on highways as the local authorities could not meet the challenge of the huge quantities of waste being generated. We advised them that the incinerator could be used for these wastes subject to only segregated material being loaded. As there were no real practices of segregation at source, we informed the client that the incinerators would be designed for a specific thermal capacity based on the list of wastes given by them. If other wastes such as hazardous industrial waste or material not suitable for incineration were loaded, the incinerator would not perform as it was designed to.
The client assured us that segregation would be done at the point of receipt using a series of methods including shredding, magnetic separation, conveying, etc.
Haat did a basic design and based on the local environmental regulations, were able to conclude that a standard 2 chamber incinerator with sufficient gas residence time in the secondary chamber operating at 1000 degrees Celsius plus would suffice to meet statutory norms. Waste feeding would be through automatic ram loaders for packed material in boxes or
bags.
The client also cautioned us that delivery was paramount and that they had earlier placed an order on a South African incinerator manufacturer who, after 6 months, failed to deliver the product, thereby putting their project into further jeopardy. They now had only 2 months and if we accepted their order, we had to deliver.
After internal discussions, we took up the challenge. These machines were very large and the primary and secondary chambers, occupied a large part of our crane yard. Big sections of steel had to be cut, rolled, welded, DP tested, assembled, anchor keys fixed, tons of refractory to be poured, cured, etc. Normal delivery for such a project would be at least 6 months, but Haat was able to complete it in 2. This was because of excellent project planning, support from our sub-vendors and most of all, the dedication of our shop floor staff who worked multiple shifts to meet this near impossible deadline.
At the end of 7 weeks, we informed the client that the equipment was almost ready and he arrived along with a Government Inspector to verify our claim. When they entered the shop floor, half expecting to find work in progress, they were pleasantly surprised to see the three freshly painted gleaming incinerators. The client was astonished at the readiness of the equipment, particularly after his last experience with the other supplier.
Haat attributes the success of this project to its dedicated staff who work tirelessly to achieve difficult deadliness.
Information on this incinerator model and associated accessories here - INCINERATOR MODEL LRD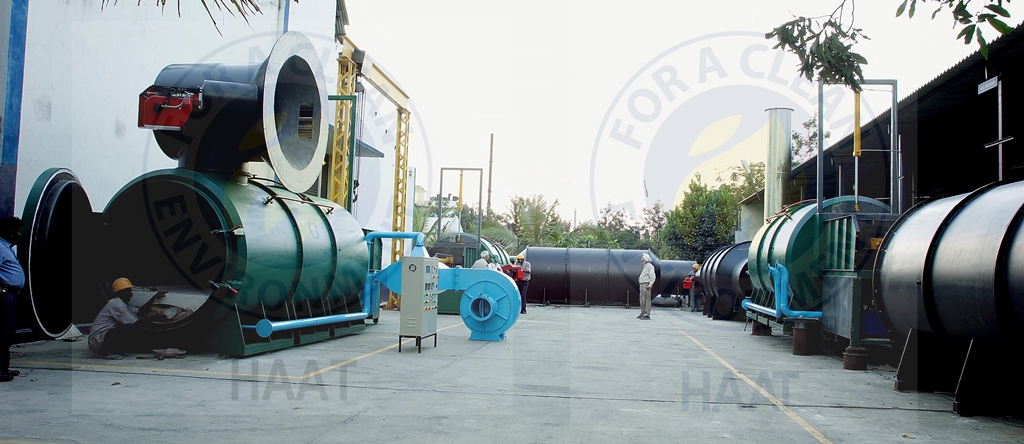 Testimonials.
"The incinerator project included a high level of Quality Assurance, Third Party Inspection and comprehensive documentation which was adhered to." – HOD (CPP & Utilities), Reliance Industries Limited.