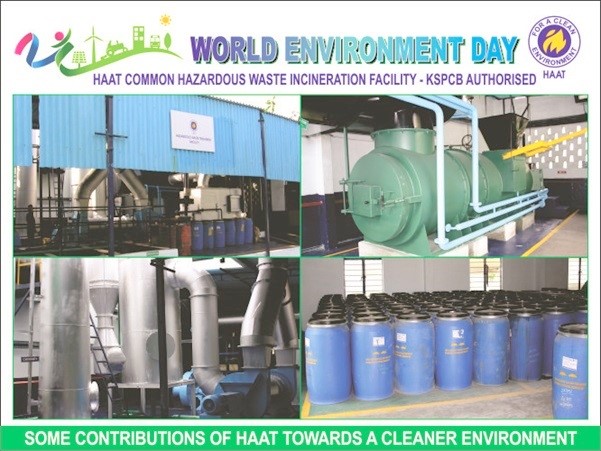 Common Hazardous Waste Incineration Facility
Haat operates a Common Hazardous Waste Incineration Facility in its own premises. The facility is authorized by KSPCB for incineration of certain categories of hazardous waste such as paint sludge, oil soaked residues, expired pharmaceutical products, etc.
The plant has an installed and authorized capacity of 1800 MTPA. The equipment configuration consists of two primary chambers with a common secondary chamber, scrubber and stack. Solid, semi-solid and liquid wastes can be loaded both manually and automatically.
No waste water is discharged from the plant. Liquid effluent generated from the scrubbing system is recirculated within the incinerator itself without the need for a waste water treatment plant and ash is sent to the authorized secure landfill.
As
a manufacturer of incinerators, Haat is well versed in all aspects of the operation of such a plant. The facility is certified to ISO Standards for Quality, Health & Safety and Environment. It is regularly audited by large companies for compliance to their own HSE norms.
Please contact us for details on disposal of your hazardous waste by incineration if you are located within the State of Karnataka in India. For non-hazardous wastes, you can be located anywhere in the country.
For very complex hazardous wastes, Haat can either supply you with equipment complying with Euro regulations or organize to have your waste exported to a European facility.
Haat has an excellent record with respect to compliance with environmental and legal regulations.
Testimonials.
"We have received good services from Haat, particularly in accommodating site installation requirements and customer requests, whether specified in the tender or not." - Christian L, MD of Steamhouse International, Mauritius.