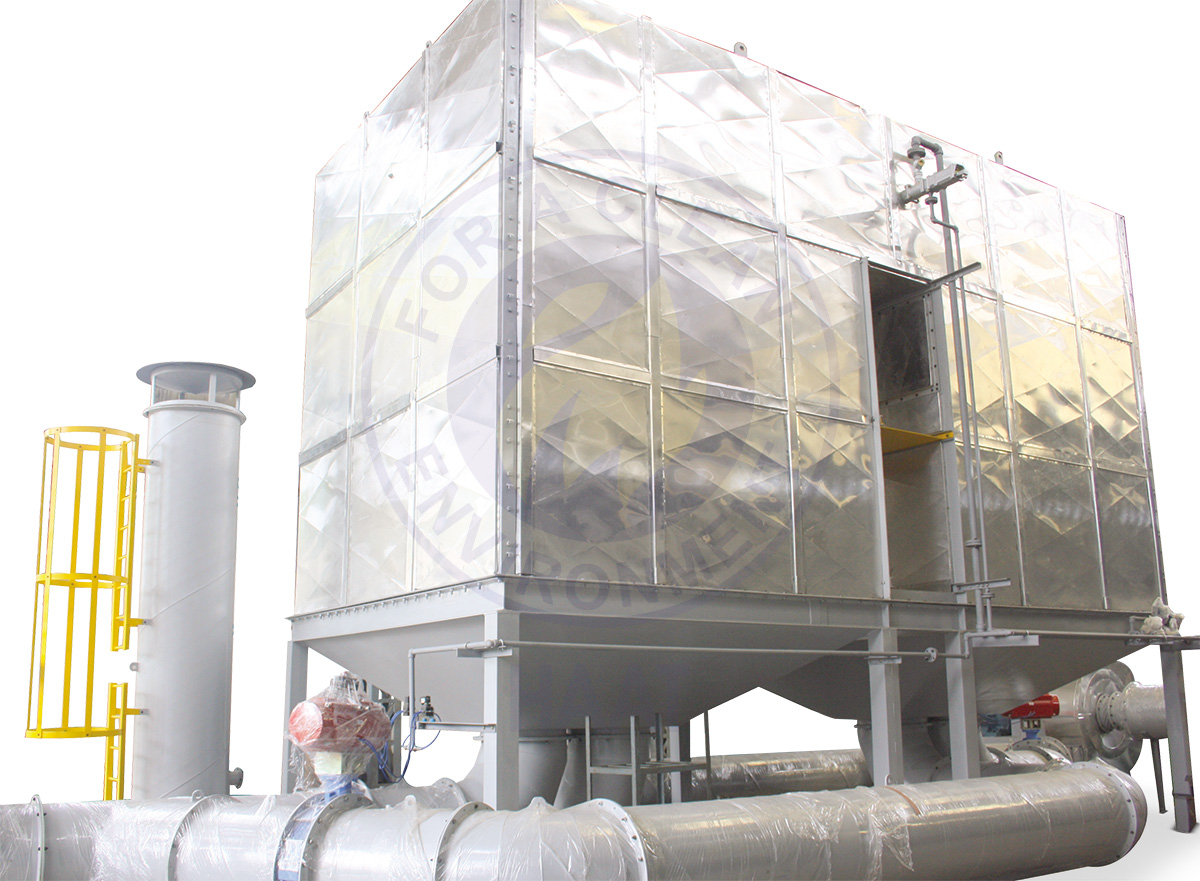 MODEL RTO Regenerative Thermal Oxidizer HXR
Capacities: NA
Emission: India / EURO / US-EPA
Fuel: LDO / HSD / FO / SKO/ Gas / Other
Power: 220 V, Single phase 415 V, Three phase
Loading: Manual / automatic
MODEL – RTO Regenerative Thermal Oxidizer – HXR
• Air pollution control for exhaust air
• Recovers heat from the process for low or zero fuel
requirement
• High temperature oxidation with high destruction efficiency
• 2 bed system
• Special ceramic material for efficient heat exchange
• Fully automatic operation through PLC
• Touch screen control by HMI
• Air pollution control for exhaust air
Waste gas streams from various processes such as painting booths, food processing, printing presses, plastic manufacturing, etc. produce volatile gases that need to be treated before release to the atmosphere. The high calorific value and VOC content of these gases requires thermal oxidation for their purification.
• Recovers heat from the process for low or zero fuel requirement
As the waste gas itself contains sufficient heat, once it is ignited, it is self-sustaining. The RTO, as the name suggests, regenerates energy for the incoming waste gas stream as it leaves the oxidizer. The system has low fuel costs even with low VOC concentrations.
• High temperature oxidation with high destruction efficiency
Design of the combustion chamber is critical to achieve the desired emission results. A properly sized RTO will ensure that all VOCs (Volatile Organic Compounds) in the waste gas are completely oxidized and very low outlet values are achieved. Gases are typically oxidized at high temperatures (usually above 800 degrees Celsius) with a minimum gas residence time of 1-2 seconds. The destruction efficiency is > 99%.
• 2 bed system
The RTO works on a 2 bed system principle. Waste gases enter through a
ceramic bed before being oxidized in the combustion chamber. They then pass through another ceramic bed, heating it up before being released through a stack. The flow direction is then reversed so the incoming gases are pre-heated by the hot bed before being burnt in the combustion chamber, saving on fuel costs and they in turn heat the first bed and get cooled as they are released. Directions are reversed at pre-determined intervals.
• Special ceramic material for efficient heat exchange
The heart of the system is the special ceramic material used in the beds as well as the leak proof valves used for switching gas flow. The ceramic bed performs 2 functions, one – to pre-heat incoming waste gas and two – to cool the outgoing stream. Special ceramic material needs to be chosen for efficient heat exchange.
• Fully automatic operation through PLC
The complete unit operates automatically through a PLC which initiates purge, pre-heat and combustion cycles. Motorised dampers and pneumatic butterfly valves along with process fans control the flow of the waste gas through the system. Instrumentation for monitoring temperature and pressure at critical points is provided and the PLC takes action depending on programmed safety interlocks ensuring that safe operation takes place at all times. Additional gas monitoring systems are also available.
• Touch screen control by HMI
The entire process can be monitored by a colour touch screen which provides information on the process, status of various equipment, alarms and instrument measured values. It will also provide options to trouble shoot problems so operation of the entire plant is very simple.
Capacities
From 500 m3/h to 100,000 m3/h, any RTO capacity in this range can be supplied.
Air Pollution Control Devices
Accessories
Waste types this product can handle
Testimonials.
"The system fully meets the requirements of the Central Pollution Control Board's guidelines for Hazardous Waste Incinerators." – SMR Prasad, GM (Environment Management), JSW Steel.