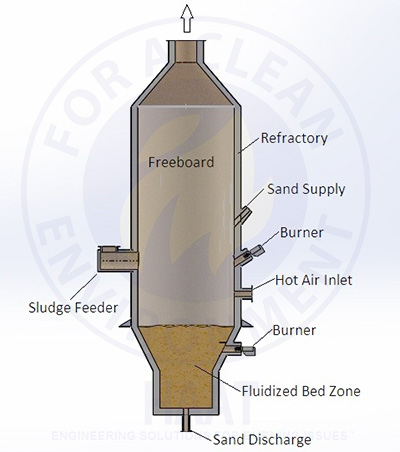 FLUIDIZED BED INCINERATOR - ZD
Capacities: 5 kg/h to 50 kg/h
Emission: India / EURO / US-EPA
Fuel: LDO / HSD / FO / SKO/ Gas / Other
Power: 220 V, Single phase 415 V, Three phase
Loading: Manual / automatic
FLUIDIZED BED INCINERATOR - ZD
• Classic bubbling bed combustion process
• High residence time for volatile gases
• Applications include sewage sludge, ETP sludge and municipal solid wastes
Classic bubbling bed combustion process
Haat offers fluidized bed incinerators with Swiss technology. The fluidized bed combustor is a refractory lined vertical shell. Incineration is by the classic bubbling fluidized bed combustion process with the sludge being mixed by the sand and burnt with the assistance of the combustion air. The bed is supplied with preheated primary air for fluidization and completion of the combustion of heavies remaining in the bed and being removed from the bed together with the sand for sand make up / separation of heavies.
High residence time for volatile gases
The combustion chamber will
have sufficient residence time for incineration of volatile matter in an after burning zone. Secondary air is added to the free board in order to achieve full burn out of the flue gas completing the combustion started in the fluidized bed.
Applications
Fluidized beds are known for their efficiency in incinerating large quantities of sludge or municipal waste which provide excellent destruction and removal of organic content due to the fluidization of the sand bed which is constantly mixed and agitated with the help of air.
Capacities
These are normally available in capacities of several tonnes per hour, please contact us with more information on your requirement.
APCD
• Dust collector
• Acid gas scrubber
• Wet venturi scrubber
• Bag filter
• Denox and dioxin removal
• Hybrid system
Air Pollution Control Devices
Accessories
Waste types this product can handle
Testimonials.
"We are happy with Haat's animal cremator model PD-72, the services provided by them and their prompt responses to all our requirements." – Zoo Director, Veermata Jijabai Bhosle Udyan & Zoo, Mumbai.