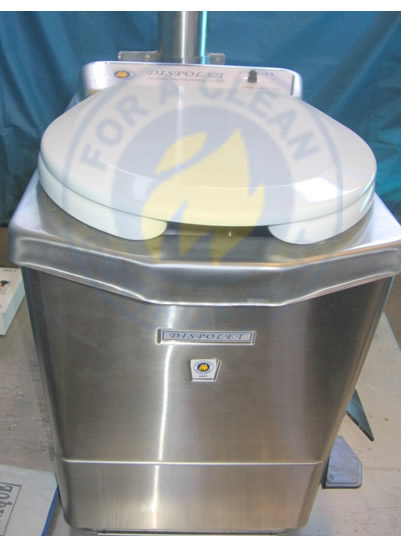 Dispolet toilet waste incinerator DT
In remote and environmental areas, where disposal poses serious problem with regard to disposal of human waste, the electrically operated toilet incinerator Dispolet is available for handling this problem very efficiently.
Electrical toilet incinerator
Suitable for use in remote locations
Can be used like a WC
No water required.
Electrical toilet incinerator
This is an electrically operated toilet incinerator which functions like a standard WC. This requires only electric, single phase power with no water or other fuel required.
Suitable for use in remote locations
In remote and environmentally sensitive areas such as a country's borders in say, very cold locations like the Antarctic region, where availability of common utilities is a problem, environmental cleanliness is given great importance. The Dispolet serves the purpose wherever there are man-camps.
The
system comes with standard accessories like the unit with control panel, bowl liners, but additional items like extended stack, etc. can be provided depending on the need.
The material of construction of Dispolet is stainless steel which will ensure long life of the equipment.
Can be used like a WC
The Dispolet is ready to install directly in any toilet in place of a regular WC. No plumbing is required and only the stack needs to be placed with the exhaust going out. Plug in power and it is ready to use.
A bowl liner needs to be used every time. A pedal is pressed and the waste goes into a compartment below where burning takes place. The Dispolet can be used while burning of waste is going on.
No water required
Water is a scarce resource in remote locations and the Dispolet does away with the need for flushes and subsequent waste / black water treatment. This ensures the sensitive eco balance in a remote location is not affected.
Testimonials.
"Haat can be relied on to meet urgent requirements." – Sanjay Tulshyan, Managing Director, Technical Associates, Nepal.