Design, fabrication and supply of incineration system of capacity 600 kg/hr
Mainly to be used for camp waste
Two primary chambers with one secondary chamber, air pollution control system, 30 metres rubber lined stack and control panel.
TPI SGS
Designed for safe area
TACKLING WASTE MANAGEMENT IN THE MIDDLE OF THE DESERT
We were approached by Tehran Afra Engineers to supply a large 600 kg/h incinerator for a 3500 man camp being set up by them for the National Iranian Oil Company through the Japanese company Inpex Corporation. Tehran Afra are one of the largest EPC contractors in Iran and can assemble and set up a fully functional camp with residential quarters, offices and even facilities like tennis courts and swimming pools in record time. As per their contract, they were to supply an incinerator to cater to the solid waste produced in the camp so as to ensure that all the garbage produced here would be safely disposed of, leaving only ash of less than 10%.
The design of an incinerator of this size needed to ensure that it provided for sufficient volume for loading of the camp garbage which would have a low density. The secondary chamber would also need to be large with a minimum gas residence time of 2 seconds so that all volatiles could be completely incinerated. The other challenge was that the equipment would be run at normal capacity only when the camp was fully occupied. This meant that till then, the equipment would have to operate at a fairly low turn down ratio as camp occupancy would be around 40-50% , thereby generating less waste. This could be difficult considering the large volumes we needed to provide for 600 kg/h.
After some basic engineering, Haat came up with a solution to provide the client with 2 primary chambers, each of 300 kg/h. Run one when the waste generation was less, run both when needed. The secondary chamber and downstream equipment, would of course, be sized for both chambers running simultaneously.
The incinerator was also provided with a wet venturi scrubbing system, a water cooling cycle as well as a 24 m stack. The entire system was controlled by a PLC and waste loading was automatic through a ram loader. The control panel also had a colour touch screen HMI which would indicate data, show instrument trends and generate alarms with the cause and solution.
Shipping from Bengaluru to the site in Iran was also a
challenge as the sizes made them odd dimensioned. The chambers needed flat racks which needed to be lashed and approved by a surveyor. All containers needed to also withstand the rigorous journey from the Iranian port to Azadegan which was at least 100 km from the city of Ahwaz. Haat has shipped machines to all corners of the globe and has the experience to ensure equipment is well protected (say internal bracing for the refractory which is already done in the shop rather than at site) and packed to withstand the long journey and the possible storage at the site in the open for maybe a month or two.
The site was impressive, with work being done by Tehran Afra moving at a fast pace and nearing completion. Though this site was extremely remote a 2 hour or so flight from Tehran to Ahwaz and then a 2 hour car journey and was just a few km from the Iraq border, it boasted of some excellent facilities. Our supervisory personnel were accommodated in air conditioned containers converted to rooms with a built in bathroom, fridge and the icing on the cake was that they were able to watch their favourite Indian soaps on satellite television.
The weather was another matter with peak temperatures nearing 50 degrees Celsius, but adequate precautions were taken and work was not allowed during the hottest parts of the day.
After installation, training was conducted in a well equipped training centre as well as on the job training on operation and maintenance of the equipment. Haat was proud to be associated with Tehran Afra for this project and for contributing to NIOCL's commitment to minimise any impact on the environment as a result of their oil drilling operations.
Haat's 12,000 kg/day incinerator was commissioned in 2008 and a performance certificate from Tehran Afra is attached on this page. Mr. Abbas Fahim, Managing Director of Tehran Afra was kind enough to give his feedback on the incinerator's performance 9 years after its installation in 2017. A short video can be seen on this page in which Mr. Fahim gives his views on this project, the performance of the incinerator and the quality of work done by Haat Incinerators.
More photos of this installation can be seen here -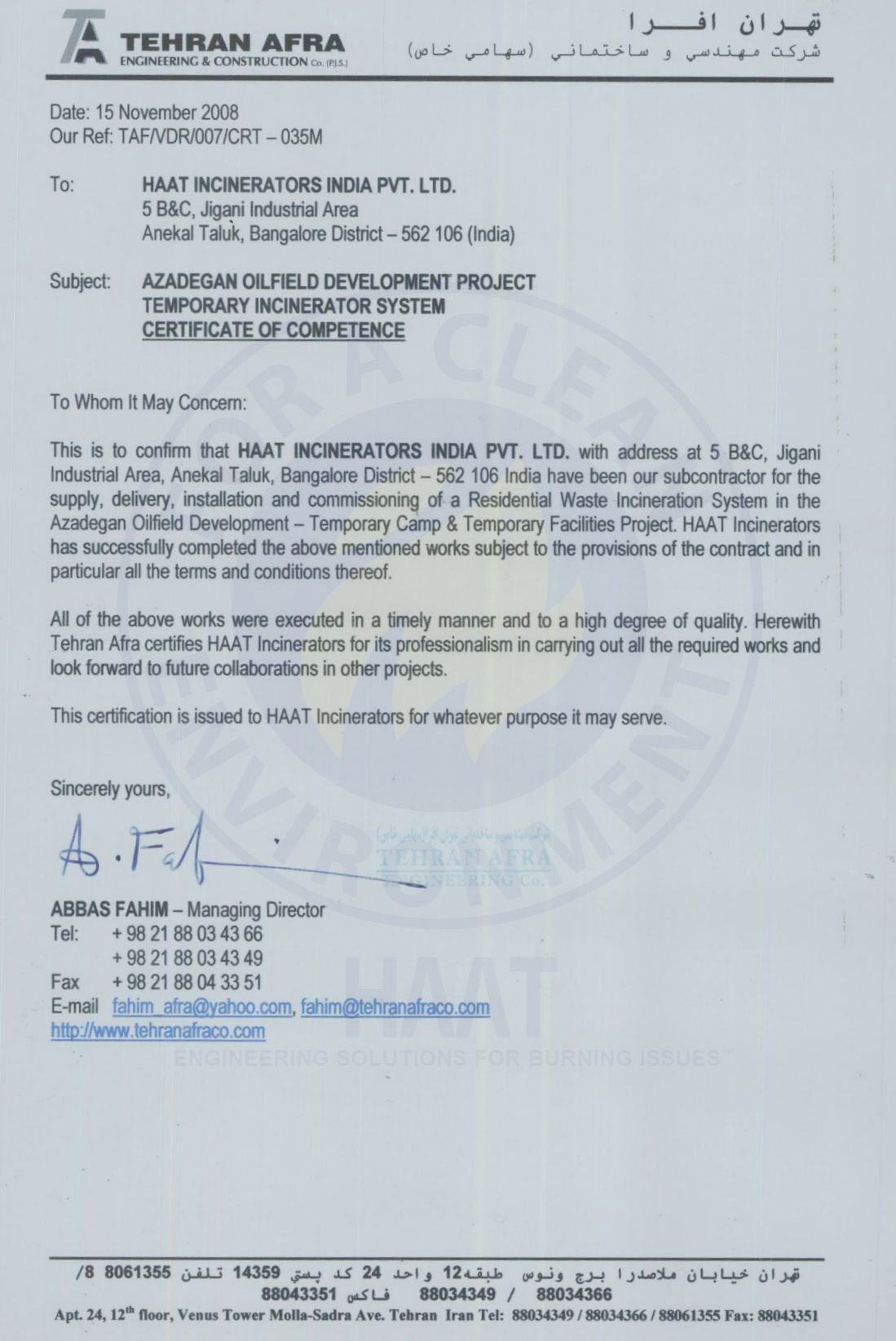 Testimonials.
"Model GD-3 and GD-6 incinerators cater to all the waste generated in our hatchery plant. Working satisfactorily and no smoke is visible. We appreciate HAAT in helping us to dispose off our hatchery waste and mortality effectively." - Dr. S.V. Deshpande, Manager, Venco Research and Breeding Farms Ltd.