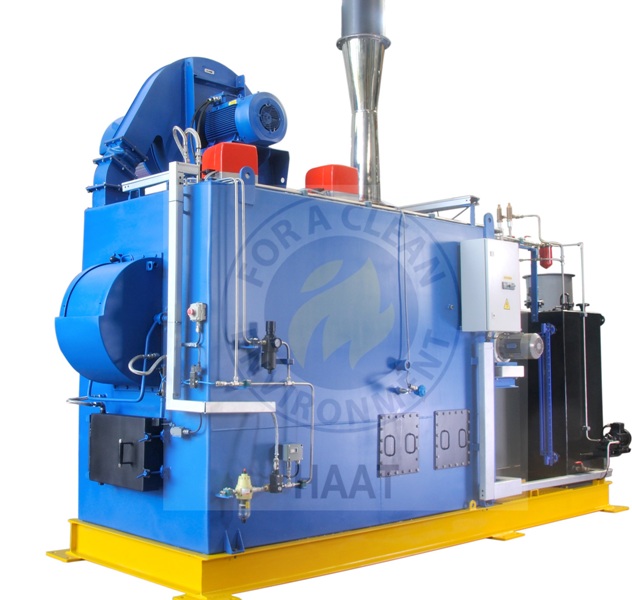 INCINERATOR MODEL MARINE - SWR
Capacities: 25 kg/hr to 500 kg/hr
Emission: India / EURO / US-EPA
Fuel: LDO / HSD / FO / SKO/ Gas / Other
Power: 220 V, Single phase 415 V, Three phase
Loading: Manual / automatic
INCINERATOR MODEL – MARINE - SWR
• Onboard disposal of ship waste by incineration
• Compact design
• Smokeless and odourless emission
• Suitable for corrosive atmosphere
• IMO compliant
Onboard disposal of ship waste
All organic ship waste – including liquids, sludge and solids, particularly oil residues, oil soaked cotton, food waste, etc. can be disposed onboard without any damage to the sea or to the environment with an onboard incinerator.
Compact
design
Primary and secondary chambers housed in the same incinerator shell with control panel mounted on the side. The incinerator can also be mounted on a skid.
Smokeless and odourless emission
If charged and operated properly, the incinerator functions without any smoke or odour.
Suitable for corrosive atmosphere
Construction of the incinerator is such that it is suitable for seawater corrosion as well as the salty atmosphere.
Capacities
Upto 4000 KW (heat output), any incinerator capacity in this range can be supplied.
Air Pollution Control Devices
Accessories
Where this incinerator can be used
Waste types this product can handle
Testimonials.
"The services provided by Haat during execution of the project for supply, installation and for subsequent after sales support are appreciated." – Binoj Koman, Sr. Div Mgr (Production), Tata Hitachi.