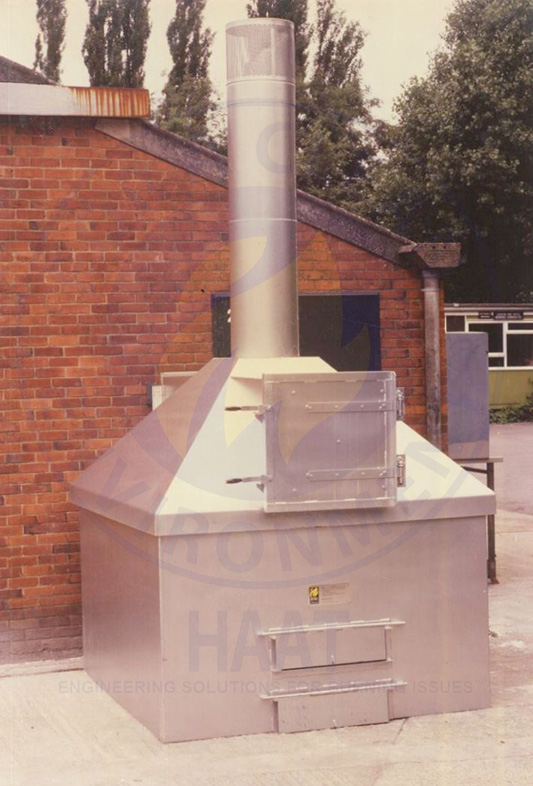 INCINERATOR MODEL LD / MD / HD TRASH DESTRUCTORS
Capacities: NA
Emission: India / EURO / US-EPA
Fuel: LDO / HSD / FO / SKO/ Gas / Other
Power: 220 V, Single phase 415 V, Three phase
Loading: Manual / automatic
INCINERATOR MODEL – LD / MD / HD TRASH DESTRUCTORS
• Free burning design
• No fuel and no incineration running costs
• Ideal for type-0 and type-1 wastes
• Smokeless and odourless emission
Free burning design
The design of this trash destructor / incinerator is such that the calorific value of the waste is utilized as fuel and the system operates without any other external fuel.
No fuel and no
running costs
In this model, running cost of the system is nil since no fuel is used.
Ideal for type-0 and type-1 wastes
Ideally suited for packing material waste, paper, cardboard, wood waste, etc.
Smokeless and odourless
If loaded and operated properly the system will produce no visible smoke or odour.
Capacities
From 5 kg/h to 240 kg/h, any incinerator capacity in this range can be supplied.
Accessories
Where this incinerator can be used
Testimonials.
" The incinerator is functioning extremely well and meeting all the requirements of Gazette of India notification. The Strength of the equipment lies in its easy handling, economy in treating bio-medical waste and meeting all criteria control test of PCB Karnataka "
- Group Capt. H. S. R. Arora, Registrar, Command Hospital Air Force, Bangalore.