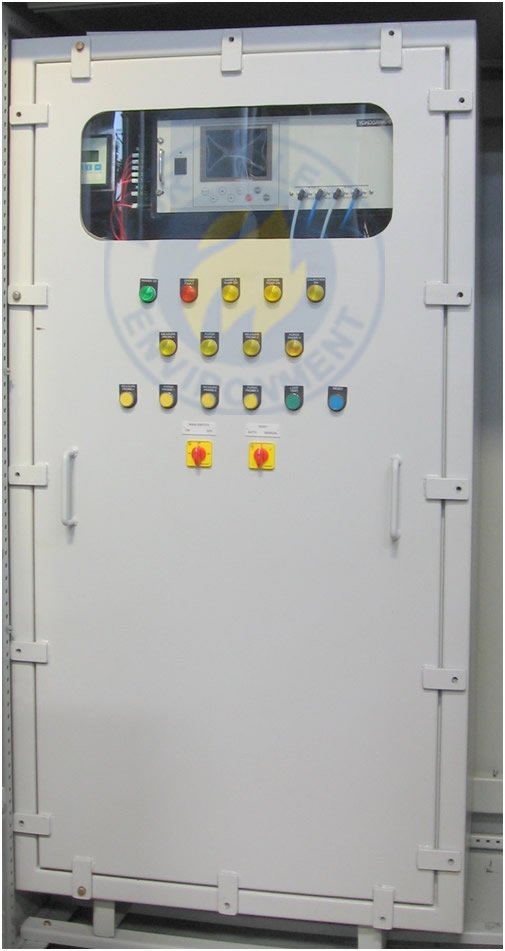 EMISSION MONITORING SYSTEMS
An incinerator's performance is judged not only by its destruction and removal efficiency which implies complete combustion of organic content in the waste, but also the emission limits that they need to comply with.
There are many local regulations which an incinerator needs to comply with and has to demonstrate compliance to the same. Continuous emission monitoring systems can be coupled to the incinerator and outgoing gases are drawn from the sampling port of the stack for flue gas analysis. These are then extracted to flue gas analyzers placed in an analyzer panel.
Many different options are available including portable
types.
The most common emission monitoring system used in incinerators are mounted in a panel and typical pollutants measured in the stack include CO, CO2, O2, SOX, NOX, dust, etc.
Both continuous emission monitoring for CO, CO2, SO2, NOX and other elements as well as portable emission monitoring for the above elements can be done with the respective equipment. O2 analyzers are also available.
Continuous emission monitoring requires a separate panel near the incineration equipment. In the case of portable monitoring, the probe is used manually by placing it inside the sampling port whenever gas analysis is required.
Testimonials.
"The services provided by Haat during execution of the project for supply, installation and for subsequent after sales support are appreciated." – Binoj Koman, Sr. Div Mgr (Production), Tata Hitachi.